Hoops and Hope, 2018
We are once again supporting this year's Hoops and Hope Day, Sunday August 26 from 10:00 – 4:00, at Dugger Park, right here in beautiful West Medford MA.  This is a day celebrating the athletic traditions of our communities.  There will be Football, Basketball, and Soccer clinics featuring NBA, NFL and MLS Athletes and Coaches, Girls and Boys High School Regional Tournaments, and the 6th Annual Brandon Bolden Tournament.
Food and other entertainments will be available as well.
(Other than the food) this is all free, made possible by our generous sponsors.
You can register for the clinics by heading to this web site:  www.hoopsandhope.org.
Or, you can call the Community Center (781-483-3042) for with any questions.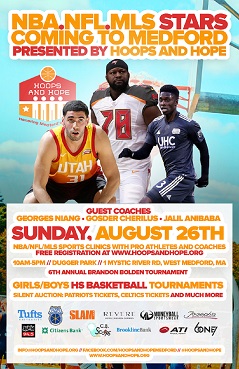 Labor Day 2018 Block Party!!!
We are thrilled to once again be hosting a "Labor Day Block Party" at Dugger Park on Sunday, September 2, from 12:00 to 6:00 PM.   Food, Fun, and the whole family can participate!!!!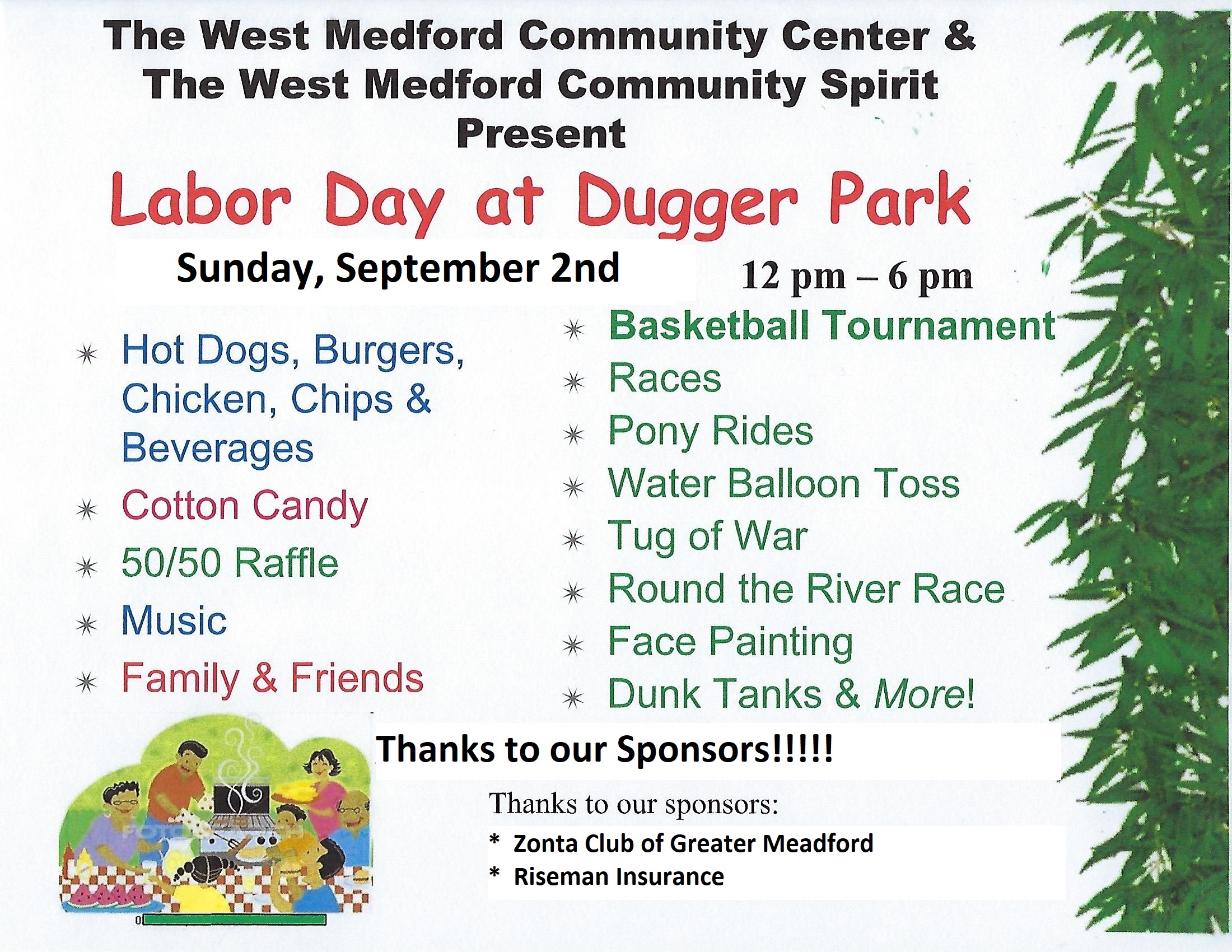 Adaptive Dance for Parkinson's
We are very excited to partner with the Spaulding Rehab Network in providing this fun and exciting program to support those with Parkenson's.  NO PRIOR DANCE EXPERIENCE IS NECESSARY!!!!  This class will be held once a month on the 2nd Thursday of the Month from 5:00 PM – 6:15, right here at the West Medford Community Center.,  For more info, or to register, please do call 877-976-7272.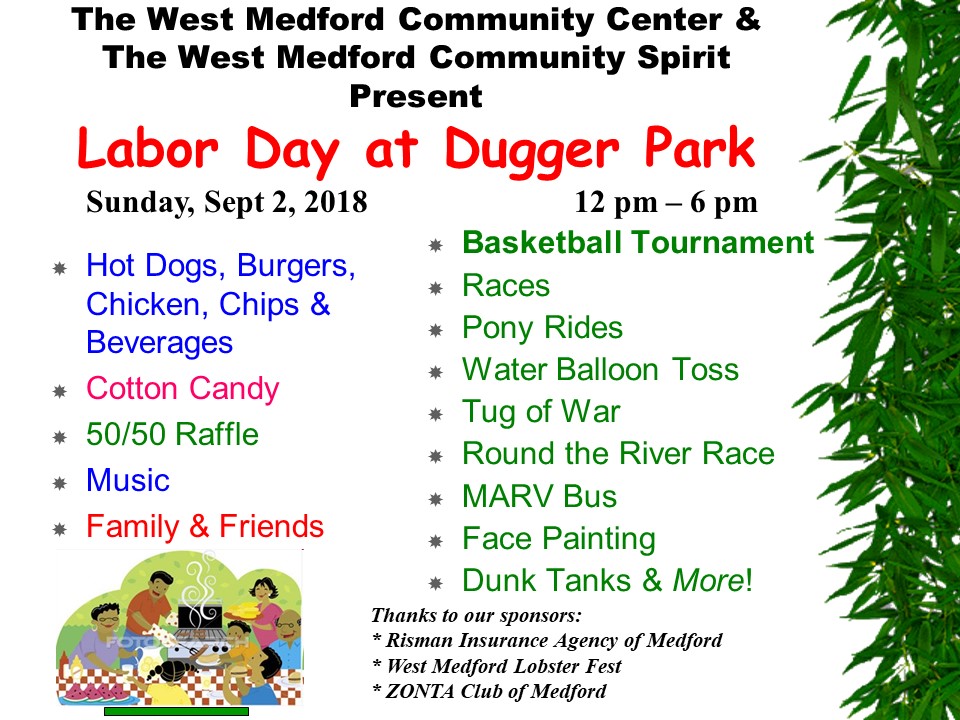 "Self-Expression Through the Arts"
We are very excited to be offering a new program, starting this Summer, here at the West Medford Community Center.
"Self-Expression Through the Arts" is a guided workshop, exploring a range of creativity (creative writing, art, drawing, puppetry and music) in a group setting.  This will be facilitated by "Nadia Gardner," a creative Artist and Educator.  (You can get more detailed info by clicking on this picture.)
We're looking at offering this for 8 evenings (Tuesdays, at 7:00 PM) beginning July 31.  There is a suggested donation of $5.00 per class session.
Please feel free to contact Nadia directly at: 510-542-1144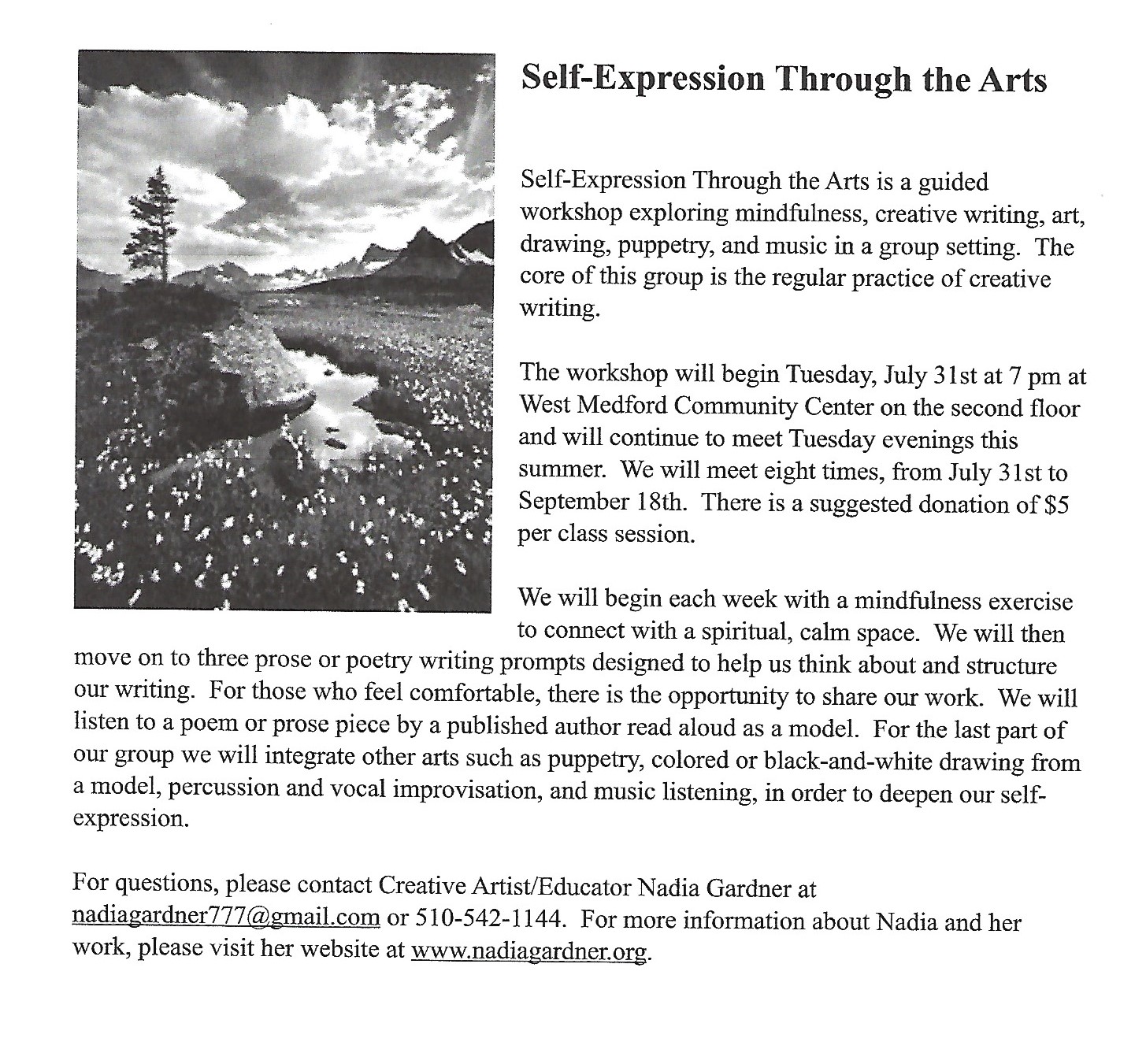 BASIC JEWELRY MAKING
We're once again partnering with the Mystic Makerspace to offer a really cool opportunity to find that inner artist you know is in you.  Starting on Wednesday, August 8 at 6:00 PM, right here at the Community Center, you can learn how to make jewelry (something unique and special for yourself, or for someone you know who deserves something unique and special.)  Celia will show how to create earrings and pendants.
There is NO COST for this project, however you will be asked to donate some piece that you make to be sold to raise funds at this Fall's Mystic Makerspace fundraiser.  For more info, contact us here at the Community Center (781-483-3042) or connect with Mystic Makerspace at info@mysticmakerspace.org.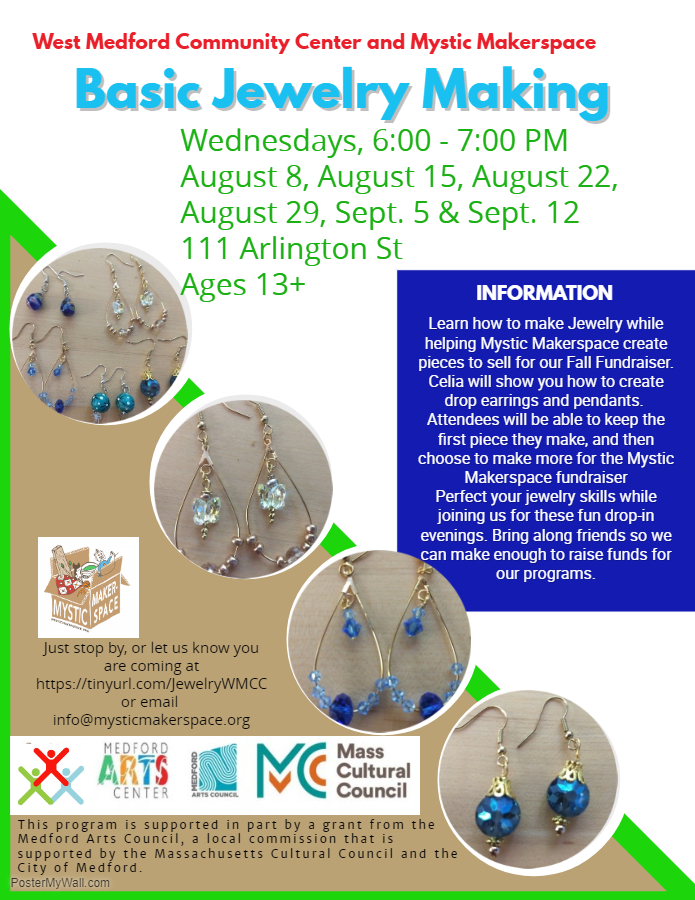 TAEKWON-DO
When we ask for input as to new programs folks would like to see here at the Community Center over the years, self defense comes up pretty consistently.  So, we are more than pleased to have contracted with master Luis McDougal, who will be offering Taekwon-Do for youth and adults (11 years old and up.) beginning Wednesdays and Fridays beginning on August 8th.  You can contact us here at the Center (781-483-3042) if you have any questions about this program.