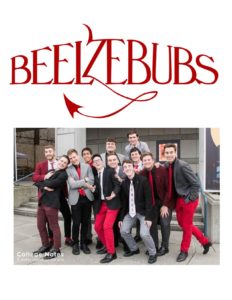 The Beelzebubs are Tufts University's oldest male a cappella group. .
They have received more than 30 CARA (Contemporary A Cappella Recording Awards)
nominations, won "Best Group in the Nation twice,.  They have sung for President Bill Clinton, President Barack Obama, Secretary of State Hillary Clinton, and many more. They've also appeared on Good Morning America, Late Night with David Letterman, MTV's and more!
Tickets:   $12.50 in advance,     $15.00 day of the show,      Senior Discount:  $10.00
Tickets can be ordered  by e-mailing:  westmedfordcommunitycenter@gmail.com,
Calling 781-483-3042,  coming into the Center, or paying via the PayPal link below.